we had a SHOPPING Saturday...
which was VERY successful, because of two great finds!
Did not really find what we went shopping for...
things for our upcoming vacay- will post about soon!
BUT the things we did find made it worth it!
first up...
found this cute little (it's actually not little) piece and instantly fell in LOVE with it!
(and so did Miss Priss)
this will be used to hold her growing collection of "Dress Up" things...
dresses, princess dresses, purses, shoes, tutu's...
and it matches the "theme" I did for her closet...
yes, her closet does have a theme... which is HOT PINK, & ZEBRA PRINT
and the second item...
I'm pretty obsessed and LOVE anything with SPARKLE, just look at my Pinterest!
SO I've been in LOVE with the boots that have sequins... but just not in love with the price attached to them- so I was beyond ecstatic when we were about to leave and I saw these...
as I went to check the price tag- they had been marked down
.... A LOT...
Yes, that's right girls, I got them for ONE DOLLAR!!!
Now they are a bit messed up, but nothing a bit of sewing can't fix...
you can't really see in the picture... but nothing major!
I was SO in LOVE & SO HAPPY,
that I never even bothered to check the size
and it wasn't until we were at the register and Gaga asked about it...
they are a size NINE... I wear a size SIX! haha :)
I don't care b/c I still LOVE them and they aren't too big on...
and they are OH SO comfy... they are lined with black soft fur on the inside!
SO even if I never wear them out, they make glam slipper boots at home! :)
I also got (not pictured) a grey with metalic silver see-through shirt- that is PERFECT as a cover-up top or cute with a pair of leggings... for... wait for it...
TWO dollars! My Mom called me crazy for getting it- b/c it wasn't in the best shape, but I think it's perfection and adorable!
I'll have to take a picture of it now, so I can rest my case on it! :)
also not pictured that was purchased on that same shopping trip-
the movie "Maid in Manhatten" for $3!
and a silver and blue sequin clutch... I'll try and take pictures later!
OH and a pair of sunglasses too- that I LOVED in the store, but since then, at home, am a bit afraid I look too much like "Mr. Wonka" in "Charlie and the Chocolate Factory" the remake...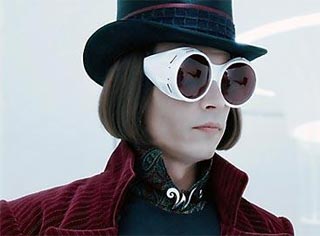 except I opted for black! ha
Oh well, at least the sun will be out of my eyes! :)
Until then, Happy Shopping! :)